Quick update from the LuminaX Healthcare Accelerator being run in Queensland on the Sunny Gold Coast.
This update covers the workshops and mentoring sessions on Sales and Marketing. A hectic schedule, jam packed with pearls of wisdom from those who have been there and done that. We've summarized some of our notes and takeaways – reachout at any time if you want to talk it through! We've previously covered some learnings from when things haven't worked out – you can read more here
On a personal level it was excellent to be back in Queensland and also visit Broadbeach, a special place for me and my family. More on that below.
Vu Tran, practicing GP and the co-founder of Go1 – an Australian unicorn and supreme success story, spoke to the group. Vu's passion for learning and understanding things is infectious. His mates first, business partners second has helped the Go1 founders grow, evolve and challenge each other on the field but return to being mates off it.
Time is your most precious asset. Use it wisely.
How can it be done? There is no 'it can't be done' – ask 'how can it be done?' Get the white board out and start scribbling.
Business Development has to be founder lead in the early stages – it's almost impossible to hand this off. With the ultimate goal of building predictable revenue and forecasts.
Know the difference between your customer and economic buyer. The quicker you access to the buyer and you can demonstrate value (whatever that means to the customer) the quicker the revenue will flow.
Finally, the recommended reading from the continually learning Vu is 'The New Solution Selling Book' – we've added this to the Med App book club list (hit me up for the full list).
The second workshop was with Nic Blair from Midnight Health. One of their brands Youly provides hassle-free women's healthcare, covering e-prescriptions and delivery of treatments such as the contraceptive pill, thrush, HSV-1, HSV-2 and Australia's first emergency contraception delivery service.
A serial entrepreneur with a marketing background, the ideas and suggestions came thick and fast!
Some practical things to look at included:
Getting comfortable with Google Key Word planner . Help to identify demand for your products, intent to buy and other related words that might help direct traffic to your site
Get your metrics set up correctly so they're easy to run when you need to. This also provides the opportunity to run A/B testing on your approach. Whether it be landing pages, images or copy.
There was a good conversation on CAC/LTV targets and calculations. A new one for us to check out and improve was Lead Velocity
Your content should be focused on getting potential customers to the next stage of the process – NOT getting them to buy. Careful thought on the education of your product and benefits associated with each stage of the funnel is critical.
Finally, the difference between intent vs awareness marketing, the effectiveness of each and why one may be more effective and important than the other for your business. At Med Apps (and given our superficial knowledge of digital marketing) we've typically focused on awareness marketing. Awareness marketing is seemingly more tangible, but more difficult to track the impact and ROI. For us – difficult to determine how we could utilise intent based marketing in a B2B environment, but we're playing around with it.
Finally from this week of mentoring and workshops we're looking at:
The copy and content of our top 40 pages, making sure they're clean and purpose driven. Support our SEO and search optimisation.
We've updated our 'good news' sharing process to support more effective PR by realising information, key publications, communities and networks to help grow our brand.
Starting to connect our accelerator peers with people in our network who can help or might be useful.
Their Final Swim
To finish off this post, a personal note. Rob and I went for the morning run (as is customary when we're on the road) along the coastline, past the Broadbeach Surf Life Saving Club. It has been 25 years now since my dad, Evan passed away. His (along with mate Tom Tyquin) ashes spread in the water out the front of the Surf Club. I have fond memories of the amazing ceremony the club puts on, with current day clubbies spreading the ashes out the side of the IRB, with the rescue chopper overhead.
It was nice to reflect, remember and put things back into perspective. The fragmentation of the care he received at the end has been a constant reminder of why we need to improve the system more broadly. A humble reminder of what is important!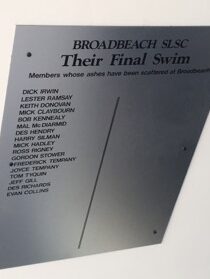 A nice excerpt from the History of the club before and some old photos below. A patient man who loved his footy (1953 Souths 1st Grade Premiership winner – see below), the surf club and his family.
The fifties saw a resurgence in club membership, with many members of Souths Rugby League Club joining Broadbeach, including Test second rower Tom Tyquin, BRL premiership winning players Evan Collins and Norm Mundt, as well as Des Richards, Bob Kennealy, Ray Selman, Des Hendry and Bill Janouris, to name but a few.
For the sports fans, Queensland Rugby League lovers and historians will know that Souths has produced some of QLD's greatest including Mal Meninga, Gary Belcher, Bob Lindner, and Wayne Bennett.