It was great to attend the Digital Health and Informatics Network industry breakfast at Sydney Uni last Friday. This panel discussion was on "How to safely, effectively, and responsibly deliver AI in healthcare?"
Panel Members:
Adam Dunn (Convenor) (Professor of Biomedical Informatics at the University of Sydney, Head of Biomedical Informatics and Digital Health in the Faculty of Medicine and Health)
Malcolm Padhan (Adjunct Professor of Digital Health, University of Sydney, Co-founder of Alcidion Group)
Farah Magrabi (Professor of Biomedical & Health Informatics, Australian Institute of Health Innovation, Macquarie University)
Ben Hachey (Beamtree Associate Professor of Clinical Informatics & Data Science, Faculty of Medicine, University of Sydney)
Alexandra Wagstaff (A/CIO SLHD)
Introduction
AI is now in the mainstream. We've seen it roll into everyday life and been amazed at things like GPT-4 and it's likeness to human intelligence. Clearly it is rapidly emerging as a powerful tool in various industries, and the healthcare sector is no exception. AI transformer models are emerging as the most interesting pieces of technology with a vast depth of potential use cases. The panel helped us to explore the potential of AI in clinical and hospital settings and also discuss the challenges and risks it presents. It is clearly early days, but important that we're thinking about these challenges now!
Opening Address – Malcolm Pradhan
Malcolm Pradhan gave a great summary of the current technology and where he saw the most immediate applications of it. The discussion of how transformers have become the foundational models in AI and his high level explainer of how the technology works was particularly interesting.
Transformers can excel at many tasks, but Malcolm saw significant benefits in analysing clinical notes, patient-clinician communications, and summarising medical histories. He noted that leveraging the technology will allow healthcare professionals to quickly extract essential information, allowing them to focus on complex aspects of patient care.
He raised the point that it is now so easy to set up an application demo or MVP, which means there is a need to think critically and strategically about where investment in AI technologies goes.
He mentioned models like Llama and Orca as interesting candidates for applications in healthcare. It was also clear that things are changing so rapidly in this space that things could be different, literally from one day to the next.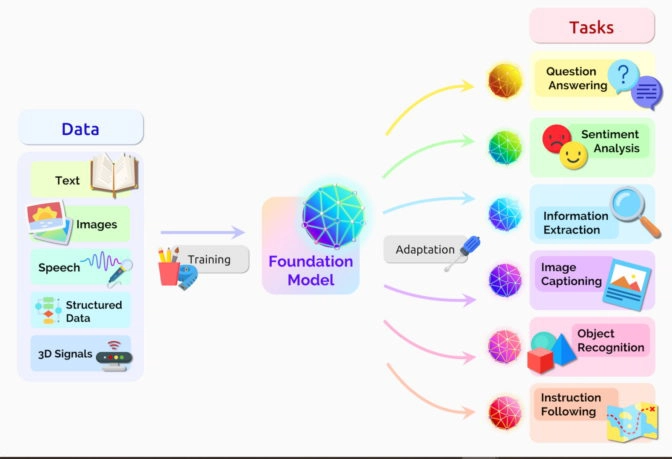 Panel Discussion
While AI holds immense potential in healthcare, challenges remain. Malcolm Pradhan discussed some of the notable issues including hallucinations, fairness, bias, and the lack of expression of uncertainty.
Alexandra Wagstaff noted that the policies and guardrails are not up yet for AI in health and that it presents a big risk (or at least big unknown) to governance of the health system. Especially considering many people may already be using AI applications. She saw huge benefit for staff productivity through being able to use AI models to help people query the vast database of policies and procedures and saw this as a potential first step for use in the hospital setting. This backed up Malcolm Pradhan's thoughts on staff efficiency when he said "Every click or tap for a clinician is pushing the friendship".
Efficiency seemed to be a theme, with Ben Hachey mentioning a couple of studies. One related to radiology and the other to a more general customer support setting. The radiology evaluation showed significant increases in accuracy and the customer support evaluation not only demonstrated improved staff efficiency but potentially opening roles up to different skill groups, or increasing staff retention.
Farah Magrabi had some interesting thoughts on how these tools fit into the 'real world' workflows. Noting the introduction of these AI products and models into the real world workflow is where we start to see the problems and that there is a vast space for unintended consequences at the moment. She also noted that Australia needs to play catchup in terms of development, investment and thinking in AI space.
Takeaway Thoughts
It was interesting to hear the panel's excitement about the opportunities, but all were clearly aware of the challenges facing them in trying to effectively invest in and test these technologies. The landscape is evolving so rapidly and it is clear that some applications like Chat-GPT and others may already be unofficially making there way into workflows.
The need to drive clinician efficiency was an ongoing theme through the talk, and something we at Med App have been pushing for years now. It is great to see these new technologies pushing the agenda and we are keen to see how Med App can interact and utilise these AI models to continue that journey. 
There are the obvious ethical considerations and challenges that must be addressed to ensure the responsible and effective implementation of AI in healthcare. We don't seem to have a firm answer to these questions and some of the panel thought that it is up to state and federal levels to drive this. It was clear that collaboration among the healthcare industry, policymakers, and regulatory bodies is essential to harness the benefits of AI while prioritising patient well-being and clinician satisfaction.
A recent analogy I heard from someone who was watching the early GPT-4 do its thing was to that of an engineer watching the first steam engine roar to life, and thinking about what it could mean for performing mechanical work. Now, for the moment at least, it seems we are on the cusp of another industrial revolution.