In this second article on clinician wellbeing, we present considerations that are important for hospital administrators and management, who are most often charged with the task of developing programs to support clinicians, foster a healthier workplace culture, and activate more engagement.
Improving clinician wellbeing needn't be an elusive goal set for hospital administrators and management who hope to foster a healthier organisational culture and employee engagement.
Beneficial outcomes arising from an improvement in the wellbeing of clinicians are corroborated in research. Here are just a few key research findings that endorse an investment in supporting clinician wellbeing:
Engaging clinicians is essential to achieve better patient outcomes, because improved engagement in a healthcare organisation is known to impact clinical outcomes positively1.
Conversely, a failure to engage junior doctors can have negative impacts on safe, efficient, and effective patient care2.
Distressed and unwell doctors have higher rates of attrition and decreased rates of workplace efficiency and productivity3.
Poor junior doctor health has been shown to impact negatively on patient outcomes, evidenced in medication errors, clinical performance, and patient experience4,5.
Equally, job satisfaction has been shown to improve workplace performance, decrease burnout and improve engagement between the workforce and organization. In turn, this leads to improved retention, productivity, and overall patient safety6,7.
Junior doctors involved in systems improvement initiatives have been linked to improved aspects of clinical retention, organizational culture, patient engagement, and sustainable, cost effective clinical outcomes8,9.
These findings all point to the value of taking action to improve clinician wellbeing, however the implementation steps may not be immediately or easily identifiable, particularly when there are many other priorities competing for the attention, time, and financial resources of hospital administrators and management.
While it may seem an onerous task to put the right tools, processes, and systems in place to support a program designed for improving clinician wellbeing, digital technology created specifically for this purpose not only simplifies the steps, it makes the resources easily accessible to the target audience quickly, easily, and cost effectively.
Since inception, MedApps' commitment has been to help every healthcare professional feel capable, confident, and efficient in their work. Improving clinician wellbeing is implicit in this commitment, which is why Med App (the application) has designated categories in the app that facilitate clinician engagement, a healthy organisational culture, and improved wellbeing, namely Get Involved and Wellbeing. Together with 15 other categories available in the Open Access version of Med App, these provide valuable resources that contribute to efforts aimed at improving clinician wellbeing.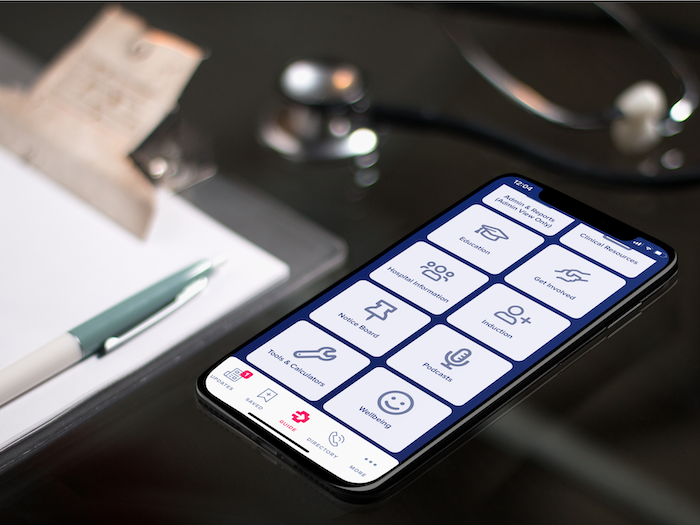 By no means an exhaustive list of actions that can be taken, we've assembled just a few ways administrators and managers can leverage the resources within Med App to address the challenge of clinician burnout.
>>> Learn more about MedApps and the Australian Framework for Doctors' Mental Health: Promoting Evidence Based Wellbeing Resources
Shout out for clinicians to improve clinician wellbeing
A simple acknowledgement carries weight in any arena and it's no different in healthcare. Reinforcing a health care professionals compassion helps them overcome empathetic distress and fear to provide care under extraordinarily difficult clinical circumstances every day10 There are various ways this can be achieved using Med App:
Under the Get Involved or Wellbeing categories, an article can be written to promote and request positive feedback to colleagues when they've achieved or done something well
Clinician submissions can be promoted through the feedback channel at the bottom of the article
At the end of each week, a wrap up announcement on the week can be provided to team members, acknowledging the great work people have done
A live board that tracks who has received the most feedback can also be set up (optional).
Nominate team members for JMO/Supervisor of the year awards
In keeping with the theme of acknowledgement, Med App provides the mechanism by which award nominations can be made. This can be done by:
Creating an editable sign up article in the Get Involved category or promoting the nomination of colleagues through the feedback channel
Hosting celebrations throughout the year acknowledging the winners and promoting their contribution
The benefit of promoting this way is that clinicians can see and receive feedback immediately. It creates an important point of connection between the team, while also nurturing a healthy organisational culture and engagement.
Promote opportunities for quality improvement, audit and research
Possibly every hospital manager and administrator has felt the disappointment and frustration of notices and memos being ignored, even though they've been placed in strategic locations and distributed via email. Making it easier for clinicians is the key to improving engagement, and ultimately clinician wellbeing. Here's how Med App can help:
Create an editable sign up article in the Get Involved tile
Populate this with descriptions of quality improvement, audit, or research opportunities
Circulate an announcement or ask for expressions of interest in opportunities
Promote their sign up using the edit and feedback features.
Given that clinician involvement in organisational improvement activities has a positive impact on wellbeing, making opportunities known is a logical first step in the process.
Improve engagement with ongoing quality improvement opportunities
Quality improvement opportunities abound in healthcare organisations, however prompting engagement and action can be a limiting factor. Within Med App there is a Campaigns feature, which facilitates action on quality improvement projects. Once an organisational priority is identified, the relevant section in Med App is populated with educational resources. Targeted communication can then be circulated and engagement tracked. There really is no need any longer for quality improvement projects to languish on the endless 'to do' list.
Promote and sign up for RMO society social events
Time out from work with colleagues in a social setting can be immensely beneficial for wellbeing and collegiality. The RMO society can leverage the ability to promote events and registrations using Med App's functionality by creating a rich editable text article under Get Involved. Not only does this simplify the process of registration and promotion, it makes the information easier for clinicians to access. It also moves the action of taking care and wellbeing to a priority in the mind of clinicians, which is where it needs to be.
Have a little fun (and run a quiz)
There is plenty in healthcare that is serious, however clinicians are entitled to a little fun too. A weekly quiz is one simple way to keep teams engaged. Med App has functionality to enable a quiz on any topic to be created and distributed. A link can be included in an announcement or mailout with information detailing when responses need to be submitted. Winners can be announced and celebrated, perhaps with an award or pizza party.
Set up a peer mentoring program
Low job satisfaction, burnout, compassion fatigue, and bullying are all excellents reasons to set up a peer mentoring program that supports the wellbeing of junior doctors. Not only has peer mentoring been shown to enhance junior doctor support structures, it is also useful for building a sense of community and helping interns to navigate their new working environment with more confidence10.
Understanding how important peer mentoring is at this critical stage of professional development, organisations with an interest in providing a peer mentoring program can access the free resource pack developed by Med Apps for this purpose and use the Get Involved tile and announcements to promote the program and facilitate peer to peer connections. The steps to establishing a peer mentoring program are surprisingly simple. For more information, contact [email protected].
>>> Read more about peer mentoring for junior doctors
Access free leadership and wellbeing podcasts for clinicians
If there is one thing technology has afforded us is the ability to access information on any topic, however with so much readily available, the challenge is distinguishing what is and isn't valuable. It's with this in mind – and the perennial limitations on time that healthcare professionals face – that feeds for free leadership and wellbeing podcasts have been made available through Med App. Sites can choose from:
onthewards – The medical podcast for doctors
Talking HealthTech – A community of healthtech providers for Australian healthcare professionals
Black Dog Institute's podcast Being Well – Inspirational stories of people who have been challenged by, and overcome, experiences with mental health conditions
Expert Insights podcast, also from Black Dog Institute – Recorded especially for health professionals and includes all elements of mental health diagnosis, treatment, and new ways of treatment.
Med App location managers need only ask to have these podcasts activated instantly! Making these valuable resources available can be another factor in helping improve the wellbeing of clinicians.
Are you looking for ways to support clinicians at your hospital or health service? Perhaps you have programs or initiatives in place and want to enhance them. If you'd like to learn more about improving wellbeing, culture, and engagement in healthcare professionals using digital technology, the dedicated team at MedApps can help. Learn more at MedApps, connect with Dr Sonia Chanchlani via email [email protected], or uncover the possibilities when you book a complimentary demonstration.
---
References
Spurgeon, Peter, Patti M. Mazelan, and Fred Barwell. Medical engagement: a crucial underpinning to organizational performance. Health Services Management Research 24.3 (2011): 114-120.
Keogh, B. 2009. A junior doctor's guide to the NHS. In: MCCAY, L. (ed.). London: BMJ Group.
Wallace, Jean E., Jane B. Lemaire, and William A. Ghali. Physician wellness: a missing quality indicator. The Lancet 374.9702 (2009): 1714-1721.
Shanafelt, Tait D., et al. Burnout and self-reported patient care in an internal medicine residency program. Annals of internal medicine 136.5 (2002): 358-367.
Fahrenkopf, Amy M., et al. Rates of medication errors among depressed and burnt out residents: prospective cohort study. BMJ. 336.7642 (2008): 488-491.
Hamilton, P., Spurgeon, P., Clark, J. et al. 2008. Engaging doctors: can doctors influence organisational performance. Coventry: NHS Institute for Innovation and Improvement CNHS Institute for Innovation and Improvement.
West, M., Dawson, J. 2012. Employee engagement and NHS performance. The King's Fund, 1-23.
Dickson, Graham, et al. "Developing junior doctors as leaders of service improvement." Leadership in Health Services (2014).
Health Workforce Australia. 2013. Health LEADS Australia: The Australian Health Leadership Framework. Canberra: Health Workforce Australia.
Shanafelt, Tait, Jonathan Ripp, and Mickey Trockel. "Understanding and addressing sources of anxiety among health care professionals during the COVID-19 pandemic." Jama (2020).
Chanchlani, Sonia, et al. "The value of peer mentoring for the psychosocial wellbeing of junior doctors: a randomised controlled study." Medical Journal of Australia 209.9 (2018): 401-405.