From July 1 2023, mandatory short notice assessments to the NSQHS standards will come into effect for all Australian health service organisations. A short notice assessment can occur anytime within a 3-year accreditation cycle1. While the notion may seem confronting, the shift to short term assessments will enable organisations to remain on the front foot.
This week, the Med Apps team joined a webinar hosted by PersonifyCare, where an expert panel discussed the upcoming changes. 
The panellists – Robyn Scanlan (Executive Director of Governance, Wide Bay Hospital and Health Service, Branko Vidakovic (General Manager Clinical Governance), Bryan Macdonald (Principal Consultant, BM Digital Health Consulting), and Michael Daly (Director Medicine & Emergency Services, Metro South Health) – shared their insights on the reasons for the change, benefits for organisations, and tips for success.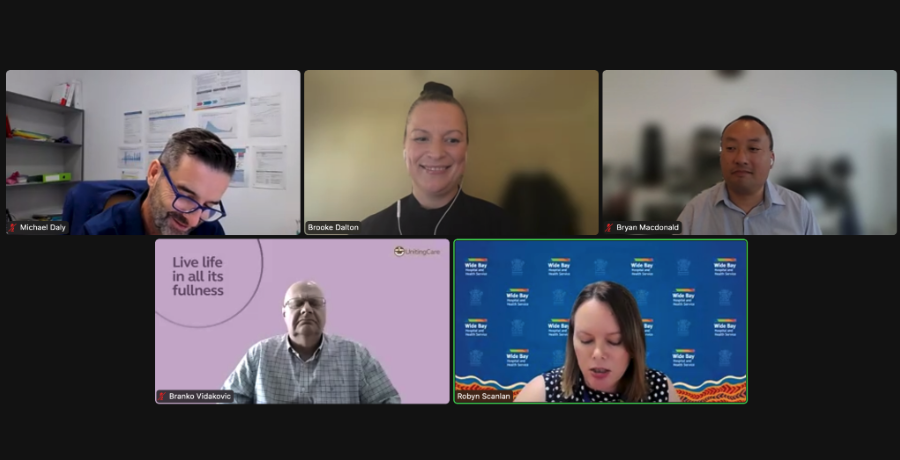 So what did we learn?
1) The previous retrospective assessment method was tedious and stressful
The previous 3 year accreditation cycle required a lot of preparation time (~ 6 months).
Often evidence collated is 1000s of printed and/or digital records to demonstrate evidence. Evidence not viewed leads to frustration and lack of clarity for what is actually needed.
Collating evidence for a 3yr accreditation is problematic for organisations and teams involved. Digital solutions must be able to show outcomes & evidence at the push of a button.
Reporting is a byproduct of clinical care, and shouldn't be separated or done in isolation – retrospective accreditation does separate this.
2) The benefits are clear
Overall ,short term accreditation is better for patients.
No more 6 month prep periods. Some organisations hire project teams to assist with accreditation preparation, however this shouldn't be required.
No more self-assessments – a big relief!
Ongoing readiness for accreditation is much easier than a retrospective push to gather evidence. This decreases the anxiety and workload for executives, managers and quality teams involved.
Reporting should be done as a part of BAU and to assist the business to inform decision making on the delivery of services/care. Reporting should not be solely for the purpose of accreditation
There is a positive shift in focus towards the real care delivery in the patient journey, rather than proving what has been done. It is much more powerful for accreditors to see systems and processes supporting clinical care, rather than pages and pages of evidence.
Accreditation readiness becomes a shared organisational responsibility and accountability
Short term assessment focuses on the "opportunity for improvement" rather than "not met" in a retrospective audit.
3)How organisations can make the transition easier
The organisation needs to understand the "why". This needs to be embedded in the culture and filtered from the executive team downwards. It should also be discussed during staff handovers and team meetings. Engagement, communication and organisational rhythm become critical in making sure accreditation is an "all the time thing".
Reliable and repeatable processes need to be in place to support being ready at all times.
Repositories for storing evidence need to be standardised and available at all times.
Use PICMoRS to develop understanding of what assessors are looking for as part of accreditation
Aligning to Accreditation Standards is "the Med Apps way"
Med App prides itself on being able to support customers to demonstrate evidence for accreditation through easily accessible and downloadable data – all at the push of a button! The is the case for administrative teams via the dashboard and clinicians via the app. Our features align to the National Safety and Quality Health Standards (NSQHS) standards, the Aged Care Quality Standards (ACQS), and the Australian Medical Council (AMC) Intern Training Standards.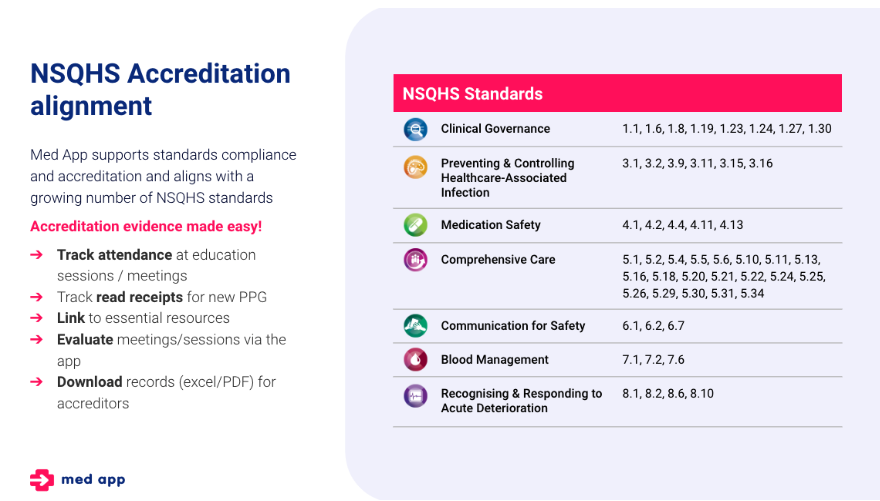 How do we actually do this?
We work closely with organisations to ensure that:
Populated with the relevant safety, quality, educational, and wellbeing content easily accessible to managers and staff, Med App is a repository of information which aligns to various Australian standards.
The messaging, education/CPD attendance tracking, and quality improvement features help streamline communication, reporting, and promote evidence-based practice.
Med App is an effective engagement tool to support all levels of management implement short term accreditation
Med App has the ability to target communications around specific quality measures e.g. falls
Clinicians can rapidly access all relevant information when SNAP accreditation is taking place
New upcoming feature upgrades will further support accreditation. The upcoming Safety & Quality tile makes specific content readily accessible to staff at their fingertips! This tile will be a 'one stop shop' for staff and managers to access key information on NSQHS and ACQS, quality improvement activities, WHS information/communications and many other Safety and quality uses.
Real outcomes – what do our customers say?
We love hearing feedback from our customers – it's how we improve, validate and understand where Med App fits in health care.
The feedback we have received demonstrates that Med App does help with accreditation preparedness and compliance with standards;
"We had our accreditation recently, Med App was really helpful for tracking and got a good reception from the internal team" – Medical Admin, Far West Local Health District
'It just made sense as an easy way for me to onboard clinicians and provide evidence of a key accreditation requirement – Medical Education Officer, Central Adelaide Local Health Network'
"Collecting data for the purposes of accreditation is highly important and the app does this with ease" – Greenslopes Private Hospital
Keen to know more about Med Apps alignment to accreditation standards? – check out this Blog
References
1. Australian Commission on Safety and Quality in Health Care 2022, Fact sheet 17: Short notice accreditation assessment, https://www.safetyandquality.gov.au/sites/default/files/2022-12/fact_sheet_17_short_notice_accreditation_assessment.pdf