Product Management has certainly been an in vogue career choice in the last couple of years. However, it is more than just an exciting and rewarding job, the fundamentals of product management can be applied to everyday life to help us design and develop fulfilling and satisfying careers and lives.
What brought you to Product Management?
I suppose you could say my life is a millennial cliché; a career in finance, career disillusionment, an MBA, and now product management at a digital health 'start-up'. But I think my journey reflects the challenges many young professionals face when they enter the workforce without a clear raison d'être and career direction. Here I want to use my story to show how 'product management' is not just a job title but its principles can be used to help solve personal life challenges too.
Having a sense of career satisfaction and feeling personal success in the work you do can be a vital requirement in achieving happiness in life more broadly. However, for some, finding such a career path can be incredibly challenging; especially if, like me, you reach the end of your education without any clear idea of what success meant to me and what sort of job would give me satisfaction. Like so many others, I just followed what others did who were deemed to have 'successful careers;' I went into finance.
It took me six years to figure out that a traditional career path at a large bank was never going to give me the career and life satisfaction I wanted. However, it allowed me to learn invaluable life lessons, and it provided the time and security to experiment and understand what made me tick, what I enjoyed doing (and what I hated), and what cultures and structures motivated me. Don't get me wrong, I was not consciously 'experimenting', but when I recognised there was a problem that needed to be solved in my career, a bit like a product manager identifies the problem that needs to be solved for their customers, I was able to draw on these experiences like data points from experiments to help me find the right path. My experiences taught me:
I wanted to be involved in building something that helped solve tangible problems in an area I felt connected to
I wanted a role where creative problem solving, ideation and collaboration was core to the work
I wanted to work somewhere where my ideas and work were valued and where I felt I was making a personal difference in solving problems
When I started exploring what jobs allowed me to fit these criteria, product management stood out above the rest. Product management means a lot of things to different people and it is a role that may look very different depending on the organisation you work for. But I was hooked on the core premise of working to strategically drive the vision and development of a product through really understanding the needs of customers and how the product can help meet these needs.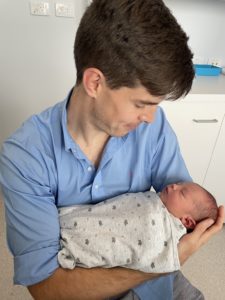 How did you find your way to MedApps?
However, I still wanted to feel connected with the problems I am trying to solve. This is where MedApps allowed me to tick all the boxes. My wife is a doctor, so I have had a front row seat observing the challenges she has faced training to be and as a doctor. In particular I have witnessed the demands it puts on your personal time and life choices. Not only are there the job stresses, but also the seemingly never ending exams, the rosters that make planning normal life events a nightmare, and the constant moving between jobs and locations. It was these non-clinical elements my wife often found the hardest. I felt that if I could help solve some of the non-clinical problems clinicians faced, then the difference it would make in their personal wellbeing would be enormous and bound to have a knock-on effect on the vital work that they do.
In MedApps I saw a digital health company that was using exciting and new technology to try to solve many of the problems I had seen my wife dealing with over the years. Not only that, but they put promoting clinician wellbeing at the core of their mission; something they also care passionately about promoting within their own company. I have seen that most acutely when I recently became a father. MedApps supported me completely, being flexible and open to my needs, which has been really important to my wife and I who are expats and cut off from our families due to the travel restrictions. Supporting me working from home, taking generous paternity leave, and leaving me with flexible options following my leave to best manage my work and family commitments has been invaluable. This is even more impressive seeing as MedApps is still a small company in terms of staff numbers and everyone is so busy and focused. It just goes to show how truly MedApps is committed to the promotion of wellbeing in the workplace, and proves to me that I made the right choice in joining the team.
Looking back, without knowing it, I 'product managed' my own career. I found a problem that needed to be solved; my career satisfaction. I looked at the data gathered from my 6 years in finance, seeing what motivated and excited me and what didn't. I used this to work out what the best solution was for my career and worked to develop a new career for myself. Now, with the help of MedApps I now have the opportunity to 'product manage' the best life for my new family.
Final thoughts?
It is never too late to 'product manage' your own career and/or life. I encourage you to reflect on what unmet needs you might have in your careers that may be impacting your satisfaction, and use your experiences in life to get creative and come up with solutions that help you feel successful in yourself.
---
If you are keen to find out more about what working at MedApps is like, see whether we have any current openings, or send through your CV in case we have something opening up , then check out the MedApps careers page.